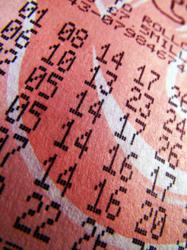 (PRWEB) December 01, 2012
"How can a person possibly be ready for the barrage of attention– both negative and positive– that comes with winning the lottery?" asks faith-based website, followme.org.
Faith-based website, followme.org, posed that question today as the winners of the record $ 587 million Powerball jackpot continue to step forward this week, according to an NBC News report from Friday.
The winners who most recently came forward to claim their $ 293 million share of the jackpot are Cindy and Mark Hill, a married couple from Dearborn, MO, NBC News reports.
The Hill family appeared at a Powerball press conference in Jefferson City, Mo., on Friday to claim their share of Wednesday's Powerball jackpot: over $ 293 million. The Hills have three adult children and a six-year-old daughter who was adopted from China.
What do the Hills plan to do with their winnings? They have considered adopting again, according to the NBC News report. In addition to new cars and extravagant vacations, the couple plans to start college funds for their extended family and the local high school, the lottery said.
Still, however, the Hills are not yet comfortable with their new-found wealth. "We're still stunned by what's happened. It's surreal and people keep asking us, 'What are you going to buy with it?' I just want to go home and be back to normal, Cindy Hill, 51, told reporters at the press conference.
Cindy worked as an office manager until she was laid off in 2010, while Mark works as a mechanic, according to Powerball. Once the Hills had won, it was not long before the town of Dearborn, with a population of 496, was abuzz with the news.
How does the family expect to deal with their wealth? "I hope we stay grounded. I hope we stay the same great people we were yesterday and the day before," Jason, one of the couple's adult sons, said in Friday's press conference.
Yet staying grounded in spite of mega-wealth may be easier said than done, says one faith-based website. "Congratulations to the Hill family on beating the 1-in-175-million odds! We wish the best to this grounded family. But there's a reason why so many lottery-winning stories end in painful tragedy– because very, very few people can withstand the pressure of the attention that winning the lottery brings," said Pastor Jamie of followme.org.
"Obviously, you can do a lot of good with $ 293 million. It's also important to think about what that amount of money can do to you. If you lack a deep sense of purpose before you win, mega-wealth can ruin lives after you've won," he said.
So what's next for the Hill family? They have elected to receive the $ 136 million lump-sum prize, which will be paid in the next few weeks, according to the lottery.
For more information, please visit http://www.followme.org. Followme.org is a ministry of ShoutChurch.tv.
Find More Powerball Winner Press Releases