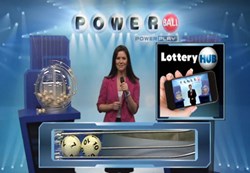 Austin, Texas (PRWEB) September 20, 2013
Wednesdays Powerball drawing featured a very special reminder. While the white numbers dropped on their way to making a $ 400 million winner, drawing ambassador Alexa Fuentes told everyone watching that Powerball drawings have gone mobile. For live Powerball drawings right on your smartphone, all you have to do is download the free LotteryHUB mobile app from Google Play or Apples App Store.
More than a quarter of a million people have already taken Powerball on the go with their LotteryHUB apps, and since releasing our newest version a little over a month ago, we have already had more than 100,000 downloads from Google Play. The latest version of the LotteryHUB mobile application has taken lottery player engagement to a whole new level, and is now the most comprehensive source of numbers, news, and exclusive lottery content on any mobile platform
"We are thrilled to have partnered with the Multi-State Lottery (Powerball) team. With their leadership, ideas from Lottery thought leaders in several states, and input from over 250,000 lottery fans, we have created the mobile destination for lottery players in the US and soon to be around the world," said Donald Clark, Senior Project Manager at Shoutz, Inc.
LotteryHUB, a mobile engagement platform managed by Shoutz, Inc., is happy to partner with one of the most well-known and respected brands in the gaming industry. We want players to have the best experience possible, and were proud that hundreds of thousands of Powerball players have relied on LotteryHUB to watch the drawings live from their smartphone.
To view the $ 400 Million Drawing, please click here: http://www.lotteryhub.com/091813-powerball-lotteryhub.php
About Shoutz:
Shoutz, Inc. provides the worldwide lottery and gaming industry with a new way to market and distribute content. Based in Austin, Texas, Shoutz offers a targeted mobile engagement and marketing platform for related mobile applications on iPhone