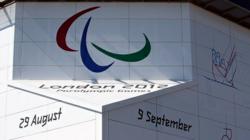 (PRWEB) August 25, 2012
With four days to go until the start of the London 2012 Paralympic Games, a building wrap around the Eurotunnel Folkestone Control Tower showing the Paralympic Games Agitos symbol and 21 Paralympic sport pictograms has been unveiled.
Download images here
The wrap, which is approximately 6.2m x 41m, has been unveiled to excite and inspire people about the Paralympic Games which start on the 29 August. 4,200 athletes from 165 countries across the world are set to take part in 11 days of spectacular sport.
Seb Coe, LOCOG Chair said: 'The Paralympic Agitos is an inspiring symbol, uniting athletes and people around the world. To athletes they represent the culmination of thousands of hours of training and reaching the highest level in sport.
Jacques Gounon, Chairman and Chief Exec of Eurotunnel: Eurotunnel is delighted to host the fantastic display of the Paralympic Agitos logo at its terminal in Folkestone. We are looking forward to the 2012 Paralympic Games being another great sporting event this summer.
Giant sets of Paralympic Agitos are being installed at iconic sites across the United Kingdom to excite and inspire people ahead of the Games and to demonstrate that London is ready to welcome the world once again.
Notes to editors:

For further information please contact the London 2012 Press Office.
The Official London 2012 Join In app is a free mobile guide to help you plan, enjoy and share your Games experience. From the Olympic Torch Relay to the Olympics and Paralympics, the Opening and Closing Ceremonies, plus all the cultural, city and community celebrations happening across the UK, the Official London 2012 Join In App is your essential companion. It is available now at app stores and at http://www.london2012.com/mobileapps/
London 2012 Games partners:
The Worldwide Olympic Partners who support the London 2012 Olympic Games and the National Olympic Committees around the world are Coca-Cola, Acer, Atos, Dow, GE, McDonalds, Omega, Panasonic, Procter and Gamble, Samsung and Visa.
LOCOG has seven domestic Tier One Partners – adidas, BMW, BP, British Airways, BT, EDF and Lloyds TSB. There are seven domestic Tier Two Supporters Adecco, ArcelorMittal, Cadbury, Cisco, Deloitte, Thomas Cook and UPS. There are now twenty-eight domestic Tier Three Suppliers and Providers Aggreko, Airwave, Atkins, Boston Consulting Group, CBS Outdoor, Crystal CG, Eurostar, Freshfields Bruckhaus Deringer LLP, G4S, GSK, Gymnova, Heathrow Airport, Heineken UK, Holiday Inn, John Lewis, McCann Worldgroup, Mondo, NATURE VALLEY, Next, Nielsen, Populous, Rapiscan Systems, Rio Tinto, Technogym, Thames Water, Ticketmaster, Trebor and Westfield.
There is one domestic Tier One Paralympic Games-only Partner, Sainsburys and one domestic Tier Three Paralympic Games-only Supplier, Otto Bock. The London 2012 Paralympic Games also acknowledges the support of the National Lottery.