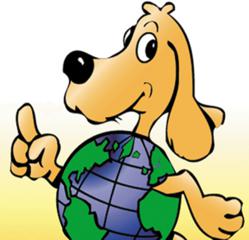 Bethesda, Md. (PRWEB) November 28, 2012
Feverish final-hour Powerball ticket sales are pushing the Powerball jackpot past a record-breaking $ 550 million for tonights historic lottery drawing, as environmental superhero Earth Dog celebrates by offering recently released childrens e-book The Earth Dog Story free-of-charge on iTunes through December.
Since Tuesday, the Powerball jackpot has mushroomed from $ 425 million, to $ 500 million, to a new record of $ 550 million ahead of tonights drawing. There is a 75 percent chance that the winning combination of numbers will be drawn Wednesday night, according to Powerball officials. The cash prize option for tonights drawing is estimated at $ 360.2 million before taxes.
Across the country, record numbers of Americans are standing in long lines at local stores and gas stations to buy their tickets, driven by the dream of becoming an instant multi-millionaire. Powerball officials estimate the ticket sales rate leading up to the drawing at 131,000 tickets every minute, beating the expected rate of 105,000 a minute. Sales are expected to total more than 189 million tickets for tonights half-a-billion-dollar jackpot more than double the number for Saturday's unclaimed $ 325 million jackpot.
Coordinated by the Multi-State Lottery Association, a non-profit organization formed by an agreement with lotteries, Powerball is an American lottery game sold in 44 jurisdictions as a shared jackpot game. The chance of a ticket winning the Powerball jackpot is 1 in 175,223,510 slightly better than the chance of winning a Mega Millions jackpot, which is 1 in 175,711,536. Powerball drawings are held Wednesdays and Saturdays at 10:59 p.m.
In celebration of tonights historic lottery drawing, fans of environmental superhero Earth Dog are invited to download their limited-time free copy of The Earth Dog Story on iTunes, available through December. In addition, Earth Dog also has a new line of promotional products available in time for the holiday shopping season on the new Earth Dog online store, in partnership with online retailer Zazzle.com. The Earth Dog Store on Zazzle.com, which offers a range of holiday gifts, is currently available at http://www.zazzle.com/earthdogstory/gifts.
The Earth Dog Story e-book is featured on Apple iTunes and Amazon Kindle. Young readers are turning to e-books in record numbers, and e-book readership now surpasses that of traditional books, according to reports.
Environmental superhero Earth Dog educates young people around the world about environmental issues affecting their planet. He teaches problem-solving skills through understanding and cooperation to students for whom the environment is a top concern.
The Earth Dog Story was first published as a storybook in 1992, then in 1996 in cooperation with the U.S. Department of Energy as a part of its Environmental Out Reach Program with Weekly Reader. Now, the popular childrens environmental superhero is making his comeback in app and e-book format with auto-narration to appeal to children of all ages. Earth Dog